OHL Announces Week 5 Rankings for OHL Showcase Cup
Created: Dec 4, 2006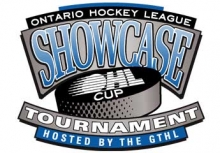 Toronto – The Ontario Hockey League today announced the fifth weekly minor midget rankings for the 2007 Ontario Hockey League Showcase for the OHL Cup, hosted by the GTHL.
The 2007 OHL Showcase for the OHL Cup, will be played at the Hershey Centre in Mississauga, Ontario, from March 21, 2007 through March 25, 2007. The Tournament will be expanded this year to include 20 participating teams form across Ontario and the United States.
The champions and finalists from minor hockey associations in Ontario, including the GTHL, OMHA, ODMHA, the Alliance and a representative from the NOHA will participate in the tournament, along with additional teams identified by the Tournament Selection Committee.
The weekly rankings are determined by a panel of OHL Central Scouting staff and reflect the top teams that are competing to play in the annual year-end championship tournament.
Minor Midget Rankings for the OHL Cup Showcase Tournament – Week 5
Last week's rankings are listed in brackets.
1. Mississagua IceDogs – GTHL (1)
2. Detroit Honeybaked 91's – USA (2)
3. Toronto Marlboros – GTHL (3)
4. Detroit Belle Tire U16's – USA (4)
5. Brampton Battalion – OMHA (5)
6. Barrie Colts – OMHA (6)
7. Detroit Little Caesars U16's – USA (7)
8. Greater Kingston – ODMHA (8)
9. Niagara Falls – OMHA (9)
10. Mississauga Rebels – GTHL (10)
Honourable Mention:
Waterloo Wolves – MHOA (HM)
Whitby Wildcats – OMHA (HM)
Nepean – ODMHA (NR)
Last March, the Markham Waxers defeated the Toronto Red Wings 3-2 in the championship game. Four players from that championship game were selected in the first round of the OHL Priority Selection last May, including Steven Stamkos and Michael Del Zotto who were the first and second overall picks respectively in the 2006 OHL Priority Selection. It marked the first time in history that the first two picks in the OHL Priority Selection have come from the same team. In all, 11 Waxers were selected in the draft.
The 2007 Ontario Hockey League Showcase for the OHL Cup hosted by the GTHL will take place from March 21, 2007 through March 25, 2007. Round robin games will take place from Wednesday March 21, through Saturday March 24, with playoffs scheduled to take place on Sunday March 25.
Several current OHL players are graduates of the OHL Cup, including Marc and Jared Staal (Sudbury Wolves), Chris Lawrence (Mississauga IceDogs), Tom Pyatt and Ryan O'Marra (Saginaw Spirit), Steven Stamkos (Sarnia Sting), Sam Gagner (London Knights) and John Tavares (Oshawa Generals).
Leave a comment
No comments yet.